Advertising Intelligence
Live digital ad reporting and analysis
Advertising Intelligence brings our client's ad campaigns under one roof so they can see what's working across various platforms. Uncover recipes behind rockstar campaigns, pinpoint what's making our clients money, and use automation to stay on top of reporting.
What types of reporting can I see?
Use Advertising Intelligence to consolidate reporting from these advertising platforms:
Google Search Ads
Google Display Ads
Google Analytics
YouTube Ads
Google Shopping Ads
Gmail Ads
Facebook Ads
Instagram Ads
Messenger Ads
Audience Network Ads
Kick-start your online presence!
Bring your Facebook Ads and Google Ads campaigns under one roof - determine what's working across ad platforms.
Pinpoint what's making you money - combine live reporting and unique sales data to show your their true ROI.
Cut down on overhead with automated reporting - get real-time performance reporting for their ad campaigns without any work on your end.
Become the expert - analyze results and interpret what types of ads are giving you the best results.
---
Bring Facebook Ads and Google Ads under one roof

Easy to use and understand

Delivers the most important metrics, including real ROI

Select which campaigns to bring into the product and view campaign-level reporting

Create a custom date range to discover trends

Campaign objective, funnel, and spend metrics

Deeper campaign analysis — keywords, ads, Google Analytics, and YouTube reporting
---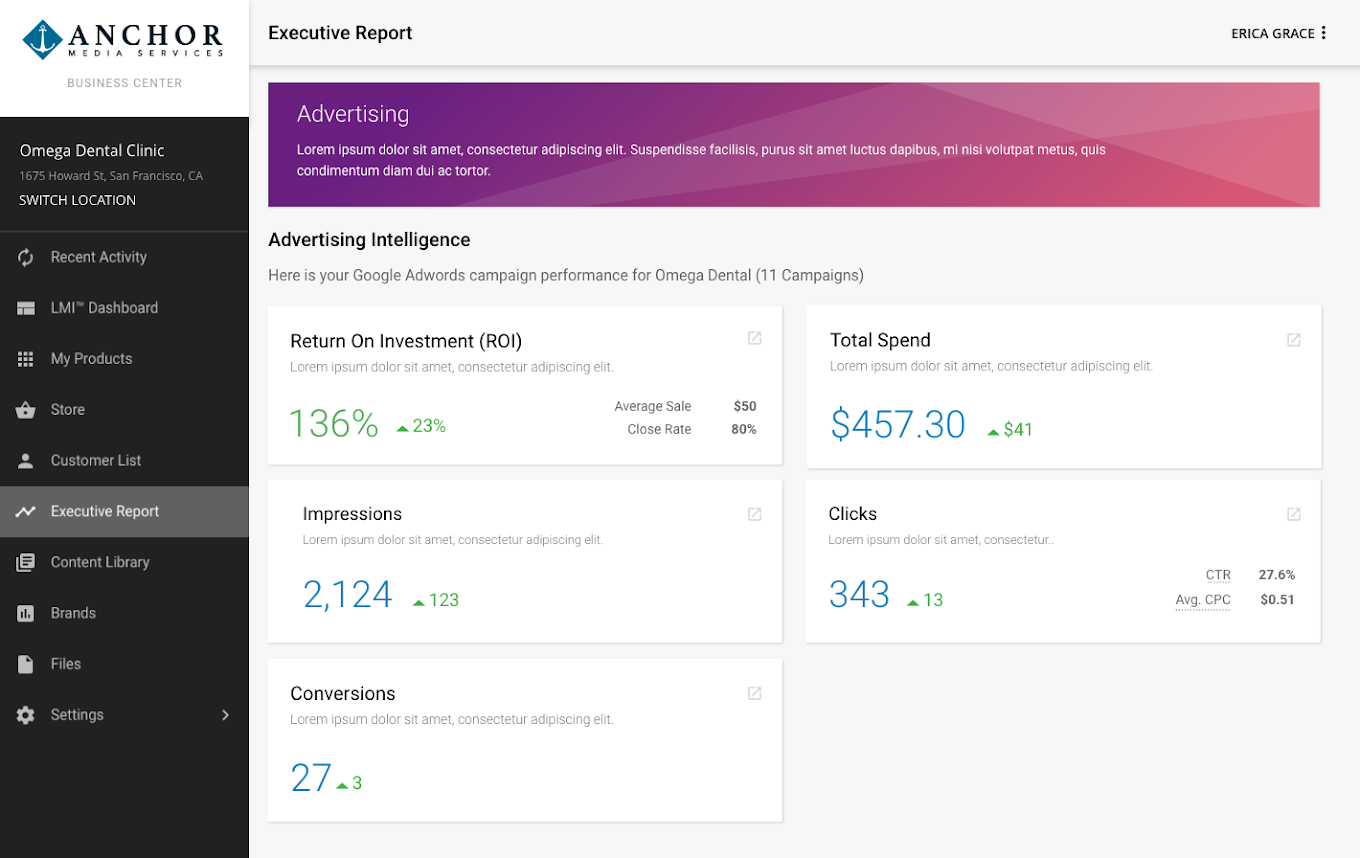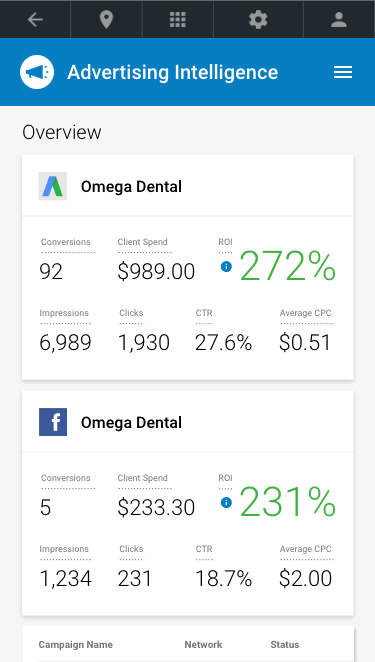 ---
Frequently Asked Questions
1What are the main features of Advertising Intelligence?
The ROI Calculator: Using Average Sale and Close Rate data collected from each unique user, a precise ROI can be calculated for your clients' Google Ads and Facebook Ads campaigns. Executive Report Integration: Empower your clients to view reporting for advertising, along with their other products, right in Business Center. Now you and your clients can see what's happening across all digital marketing channels in one place. Google Ads Manager Accounts and Facebook Business Manager support: Connect your clients individual accounts via your Manager Account (former MCC) or through Facebook. Live ad reporting: Real time reporting for your clients' Google Ads and Facebook Ads campaigns.
2What advertising platforms are included with Advertising Intelligence?
Google Ads: Search Ads Display Ads YouTube Video Ads YouTube Search Ads Facebook Ads: Facebook Instagram Ads Messenger Ads Audience Network Ads In addition, there is a Google Analytics view that shows goal completions and top traffic sources.