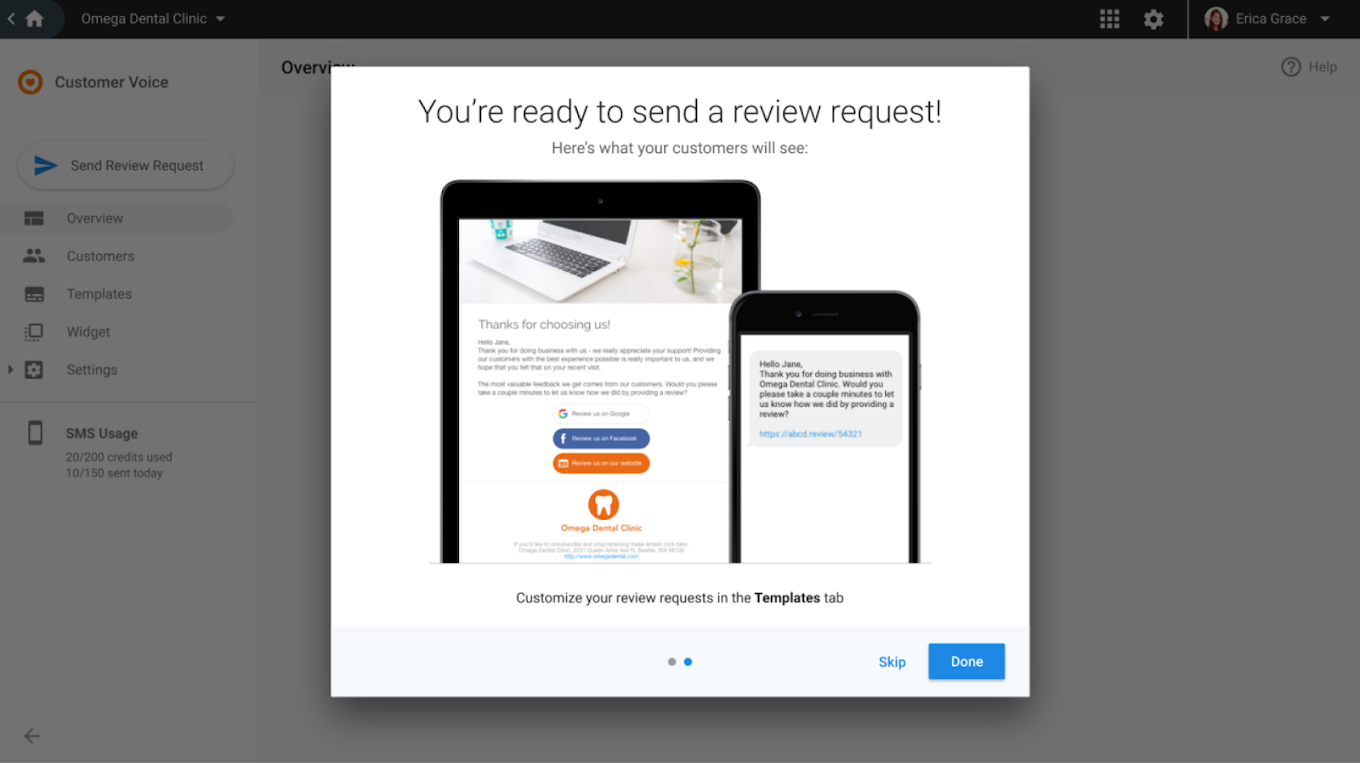 Turn customer experiences into stars.
Online reviews are critical to the success of a local business. In fact, nearly 90% of consumers say they'll only consider using a business if they have an average rating of 3-5 stars. Our clients know that it's important to capture their customer's feedback, but they need our help.

With Customer Voice, our clients have the power to gather customer experiences to boost online star power and drive more business. Win the trust of new customers, collect their valuable feedback and show up where they are looking.

We Deliver a powerful customer feedback tool that has our clients seeing stars!

With the Product-Led Growth Program, the product drives the customers' experience.
Kick-start your online presence!
Report on the syndication of your data and proof of performance in citations. Our platform shows when data has been synced with each of the four data aggregators and your growth in citations over time.
Google Insights: Google Insights in Listing Builder gives you a valuable glimpse of their customer activity, including how customers find your listing and what customers do with your listing.
We Showcase our clients' brand with photos and highlighting products and services. Offer more information like hours of operation and payment methods. Enhancing online listings will make customers more likely to buy.
We Build our clients' online presence, drive customers to their door, and boost their SEO. The correctness, quality, and amount of citations a business has all contribute to local search rankings.
Create Unlimited customers

Send Unlmited email review requests

Bulk send review requests

Customize and display Review Generation Widget

Sources to request reviews on: Google, Facebook, My Listing & More

Customize and save review request templates

Access to purchasing SMS add-ons

Send an automated follow-up email

Email signature widget

Mobile Kiosk

Executive Report
Frequently Asked Questions
1What is a data aggregator?
Data aggregators gather consumer and business data and provide it to hundreds of listing directories, review sites, search engines, and more. They also power sophisticated modern applications such as Apple's Siri and personal navigation systems.
2How often can I make changes to my business profile?
You can update your business profile as much as you like while your Listing Distribution subscription is active. There's no limit on the number of changes you can make.
3How often are listings sent to the data aggregators?
When a listing is created or modified in our system, the information is sent within 24 hours. The data aggregators receive this data and provide us with confirmation within 6-8 weeks. We also refresh your listing data once every month to ensure that aggregators always have the most accurate version of your listing.
4What if a business has duplicate listings—how does Listing Distribution take care of those?
Listing Distribution does not delete duplicate listings. If you are interested in duplicate suppression, we encourage you to visit our Listing Sync Pro product.
5How long does Listing Distribution take?
As soon as you enter your business information, we push it to the data aggregators. It can take 6-8 weeks for them to receive the information and ensure it is correct in their own databases. It is then up to the sites and sources to update their information from the data aggregators. They each query them at various intervals—some seek out the information weekly, monthly, etc. Therefore, the timeline for when a source picks up that information will vary greatly depending on their process for updating their data.
6Why is Listing Distribution a yearly subscription?
Listing Distribution is a continual process that maintains and builds your web presence over time. Once the data aggregators have your correct business information, the rate at which sites reference this information varies. To ensure the widest span of information and amount of listings created, Listing Distribution needs to be activated for an extended period of time.

Even if your business information is correct, listings can be eroded over time by user-generated content and other incorrect data. As long as your subscription is active, Listing Distribution refreshes your information with the data aggregators every week. Without this, there is a risk of allowing the current public data to change all of the value already established.
7How does Listing Distribution work?
Listing Distribution submits your business information to the main data aggregators: Neustar/Localeze, Foursquare, Data Axle, and Factual.

Over time, hundreds of directories will reference these aggregators to collect business data and create accurate listings based on your submitted information. This includes search engines, navigation systems, voice search, mobile apps, and even offline sources like telephone books and government records.

When multiple sources have consistent business data, two outcomes occur:

1. Google's WebCrawler finds the same information in multiple places and adds more confidence to their business data

2. Good backlinks are created with more referring sources to the business' website creating better SEO.